Dear HAIS Parents,
Beginning of the year packets have gone digital! The required forms need to be completed on HISD Connect, if you do not have a parent/guardian account please call HAIS main office to request your parent codes. Below are quick instructions on how to access the forms:
On a computer, go to https://www.houstonisd.org/psc and login with the username and password you established when creating your PARENT account. Once you are logged in, you will see a Navigation menu on the left-hand side.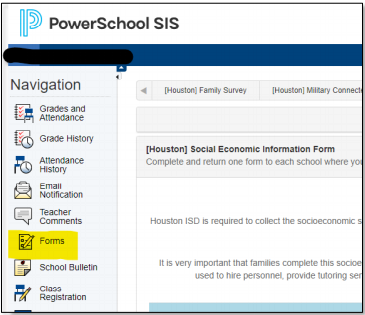 Click on Forms, the list of available forms will appear. Complete the forms and update all necessary information. Be advised that as parents throughout the district might be accessing PowerSchool, the website might take extra time to save each document. The following forms must be completed:
Privacy Code: Student Records, Rights, and Responsibilities
Family Survey
Home Language Survey
Student Assistance Questionnaire
Military Connected Family
Socioeconomic Information Form
Student Change of Address
An email with detailed instructions on how to access the forms and important information on how to fill out the Socioeconomic Information form has been distributed to all parents. Please refer to that document if you have any questions while completing the forms or feel free to reach out to HAIS PTO.